sexta-feira, fevereiro 03, 2006
A blasfémia...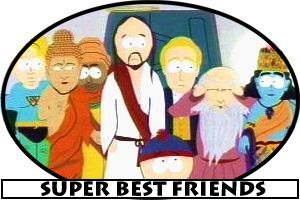 Jesus apresenta a Stanley os seus melhores amigos, neste episódio do South Park.

Jesus:

Stanley, I want you to meet some of the super best friends [they are shown when mentioned]: Buddha, with the powers of invisibility; Mohammed, the Muslim prophet with the powers of flame [he raises his hands palm up and a blast of flame emerges from each hand]; Krishna, the Hindu deity; Jospeh Smith, the Mormom prophet; Lao Tse, the found of Taoism [performs some martial arts moves with his cane]; and Sea-Man, with the ability to breathe underwater and link mentally with fish.



Stanley:

So you mean to tell me that even though people fight and argue over different religions, you guys are all actually friends?



Mohammed:

More than friends, young boy, we are super best friends, with the desire to fight for justice.



Joseph Smith:

We all believe in the power of good over evil. Except for Buddha, of course, who doesn't believe in evil. [Buddha shrugs and grins]
Escrito por Elise às 9:46 da tarde
7 Comments:
Debíamos tomar todos como aperitivo una lata de huevas de bacalao danesas
Mas os muçulmanos não devem ver desenhos animados (fá-los rir em pecado), ainda por cima de porcos imperialistas, por isso não há problema.
EU NÃO APOIO A DINAMARCA! E SE FOSSE O TEU CRISTO, não o papa que é só um funcionário de topo da igreja, também NÃO. boa tarde e bfsemana. bjinho.
Gracias, deveriamos também consumir mais produtos Knorr e a cerveja Carlsberg! :p

lol gonçalinho.

spartakus, já fui ao kombate,

abraço a todos
Links to this post:
---