segunda-feira, julho 17, 2006
Existência de Israel em jogo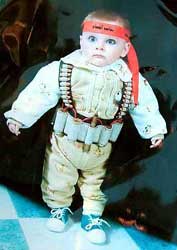 A ler:

Because occupation was a mere excuse to persuade gullible and historically ignorant Westerners to support the Arab cause against Israel. The issue is, and has always been, Israel's existence. That is what is at stake. (...)

But again, who needs history? As the Palestinian excuses for continuing their war disappear one by one, the rhetoric is becoming more bold and honest. Just last Tuesday, Palestinian Prime Minister Ismail Haniyeh, writing in The Washington Post, referred to Israel as "a supposedly 'legitimate' state.''

In 1967, Israel acquired the "occupied territories.'' In 1948, Israel acquired life. The fighting raging now in 2006 -- between Israel and the "genocidal Islamism'' (to quote the writer Yossi Klein Halevi) of Hamas and Hezbollah and Iran behind them -- is about whether that life should and will continue to exist.

Charles Krauthammer
E o islamismo genocida continua activo em Espanha, apesar da

rendição

de Zapatero em 2004.
Escrito por Elise às 12:29 da tarde
4 Comments:
Enfim.. será que esta gente alguma vez se vai entender?? Duvido, muita coisa em jogo.. a ambição do homem pelo poder não tem limites.. Bjhs
Sábias palavras as de Krauthammer. Mas o pensamento dele não se fica por aí:
Num artigo intitulado «
O unilateralismo é a chave para o nosso sucesso
», de 2001, Charles Krauthammer, do Washington Post, descreveu o mundo dos próximos cinquenta anos como
não dispondo de protecção contra ataques nucleares ou danos ambientais, no caso dos cidadãos de todos os países excepto os dos Estados Unidos
; um mundo em que «democracia» é uma palavra sem qualquer significado sempre que os seus benefícios entrem em conflito com os «interesses» americanos; um mundo no qual quem quer que exprima a sua divergência relativamente a estes «
interesses» receberá um estigma de terrorista, justificando vigilância, repressão e morte
.
E mais recentemente
Krauthammer afirmou
: no princípio do ano passado, quando Bush deixou claro que iria deitar para o lixo o tratado ABM (redução dos mísseis balísticos), o senador democrata Carl Levin, actual presidente do comité de armamento do Senado declarou: ?Estou muito preocupado com esta decisão unilateral... porque penso que ela pode conduzir a uma segunda guerra fria.?
Krauthammer:
Falso. Completamente falso. (Wrong. Totally wrong) ? asseverou Krauthammer.
Apesar da rendição de Zapatero ou por causa da rendição de Zapatero?
Zapatero surrenders terrorism
Links to this post:
---