quinta-feira, setembro 07, 2006
The buzz 2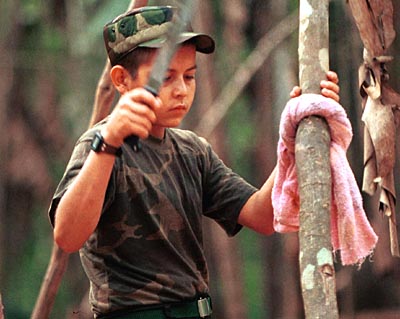 "Vais aprender a não chorar..."

A Human Rights Watch estima que mais de 11 000 crianças lutam no conflito armado colomboniano, um dos maiores números a nível mundial de crianças-soldado. Cerca de 80% das crianças pertencem aos dois movimentos de extrema esquerda: as FARC ou ELN. Milhares foram recrutadas quando tinham menos de 15 anos.

As crianças participam nas execuções sumárias, na tortura, nos assassinatos, nos raptos e ataques a civis. Caso tentem fugir, serão executadas.

"The FARC have shown no willingness to stop harming and exploiting children," said Vivanco. "To the contrary, their abuses seem to have worsened."HRW
Escrito por Elise às 3:00 da tarde
3 Comments:
fdx,estes comunas metem um nojo do caraças...
ah vão tomar no cu. o capitalismo explora milhares de crianças, e não venha dizer que são só os maus que fazem isso, a sua marca preferida tira infancia de milhares de criança. esse menino está lutando pela libertação dos povos, pode ter certeza entende muito mais que qualquer professor.
Links to this post:
---